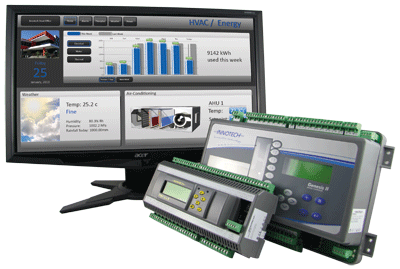 When it comes to HVAC controls, building automation products and other building management systems, Cortrols gathers the best of the best and combines the most effective and cost-efficient products to deliver a superior Building and Energy Management System.
Our range of products delivers benefits ranging from self-diagnostics to automated SMS alarm notification.  Contact us to discuss the best product solutions for your Building Automation needs.
Internationally renowned brand Innotech is the largest manufacturer of environmental controls in Australia. Cortrols has been the exclusive Victorian supplier of Innotech controls since 1990, delivering products such as Stand-alone HVAC Controls, Direct Digital Controllers and Building and Energy Management Systems and Software including the latest innovation – Omni.
The OMNI by Innotech is a Building Energy Management System (BEMS) that boasts an innovative microchip (Programmable Point) that is independently programmable as any type of Input or Output, allowing users to decrease the number of controllers on a project and mitigate waste. This modern system also includes on-board diagnostics for increased reliability, as well as a cross platform web server that allows for simplified service and facility maintenance.
Innotech's Magellan software provides an intuitive graphical portal into the installed BEMS (Building Energy Management System) providing a comprehensive system-wide view of the building's operation and performance.
Innotech ATOM software's comprehensive reporting and analysis of connected building services, allows building managers and operators to monitor and report on energy usage, carbon footprint and environmental performance.
Video gives an introduction to the Omni BEMS Platform, an overview of the controls in the Omni range, a list of features and benefits, and info about the embedded web-server and the Focus configuration software.
Siemens Building Technologies is the worldwide leader in innovative and proven products for the commercial building industry.
Cortrols Temperature Systems is an authorised distribution partner for Siemens Building Technology products which includes everything you need to construct an effective and economical HVAC control system, including; valves and valve actuators, damper actuators, controllers, sensors, energy meters, gas detection, thermostats and more.